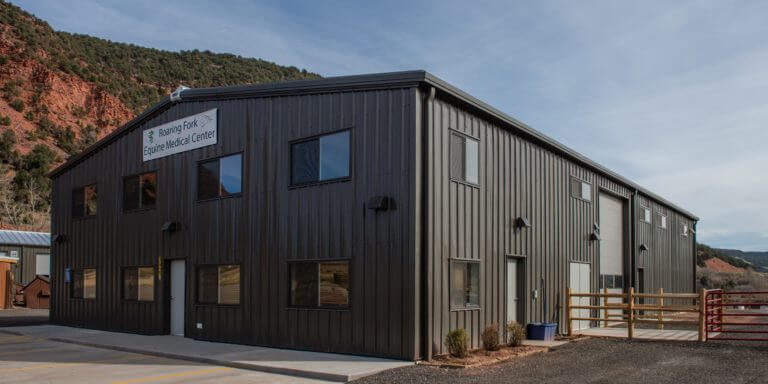 Roaring Fork Equine Medical Center was founded in 2017 by Dr. Eric Everett, offering a state of the art facility for horses and their owners with brand new, hospital-based ultrasound machines for exceptional imaging of tendons, ligaments, abdomens and hearts. Nestled just south of Glenwood Springs, Colorado, in a picturesque spot, our facility's location allows easy access for horse trailers just off Highway 82.
Our Mission and Vision
Our mission is to provide an exceptional, technically advanced facility, staffed with talented doctors and technicians focused on total horse care. We strive to maintain industry leadership in the equine medical community by bringing value to each customer, exceeding our clients' expectations. We do this while concurrently advancing and adopting the most innovative medical and surgical techniques in horse veterinary care.
Our vision here at the Roaring Fork Equine Medical Center is to continually invest in and support the local and regional horse community while establishing a legacy for providing the finest quality equine medical and surgical care.
Who We Are
We are a team of board-certified equine surgeons and one board-certified equine internist with specialized training in equine ultrasound and cardiology. As a locally owned, small business, we take pride in knowing the specific needs of horses and owners in and around Roaring Fork Valley. Our ability to provide very personalized, hands-on care, cultivating specific treatment plans for each horse, with the horse and the owner's best interests in mind, is what sets us apart.
We know that providing expert care for your horse is more than just routine appointments. Our team is available for in-hospital and ambulatory emergencies 24/7 and 365 days a year. Simply put, we are always here for you and your horse.
The Roaring Fork EMC team encourages a collaborative approach, positivity and a culture of continual learning and growth. This collaborative approach allows our clients to benefit from the vast knowledge of the entire team, ensuring that the best minds come together on cases, no matter how complex.
Community and Education
Community connects us. It is why our team continually stays involved in the local community and veterinary community. These continuing education events allow our team to expand their knowledge and expertise by staying up to date on advanced medical and surgical procedures.
We are proud to provide sponsorship for "Ranch Roping" for Harrington and Carbondale Rodeos, the Colorado West Hunter Jumper Association (CWHJA), Grand Valley Dressage Society, Camp Cozy Point, Local US Pony Clubs, Riverview Elementary and hold membership of the Carbondale Tree Board.

---